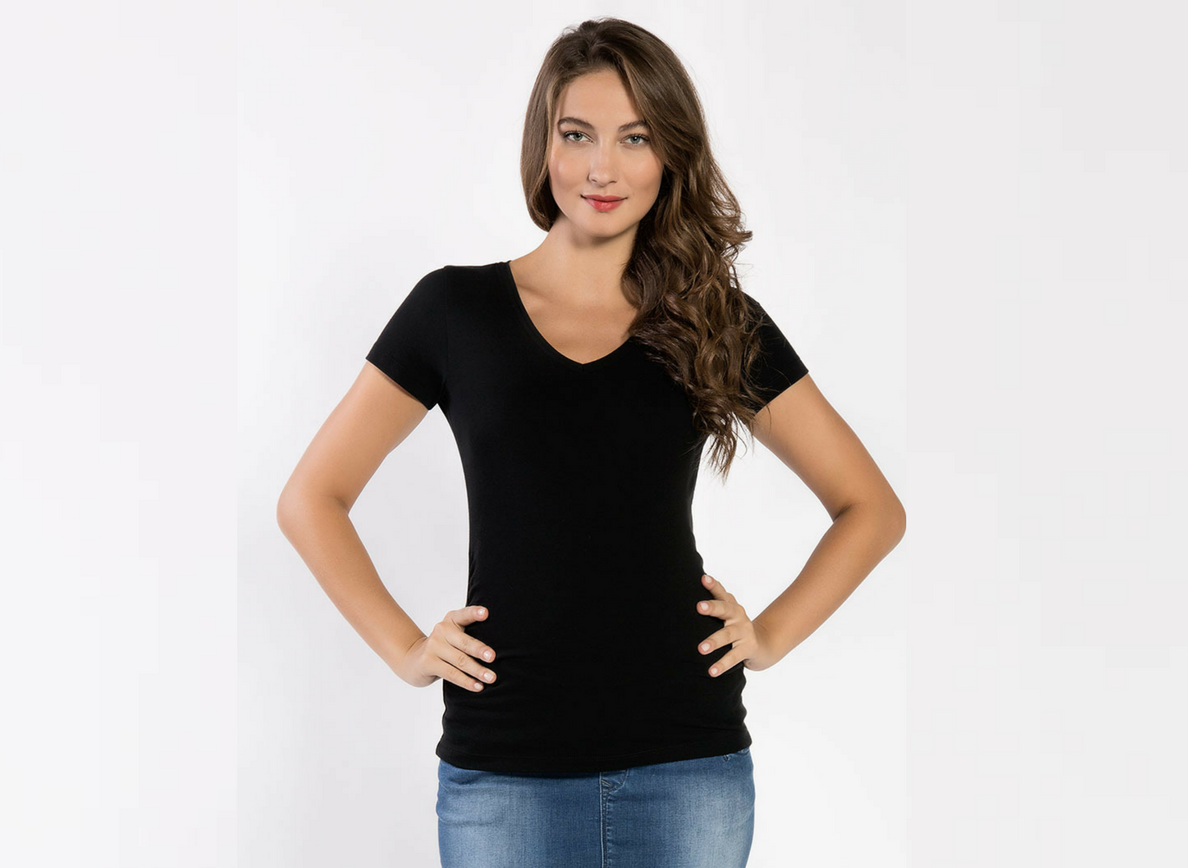 Your Essential Maternity Wardrobe
You can go all out on your maternity wardrobe or you can choose to buy only the absolutely essential items to get you through the 9 months of pregnancy. If you choose carefully you can select items that will also serve you long after pregnancy for breastfeeding and for post partum comfort.
So what are the items every mummy to be needs?:
Classic T Shirts - At least one but a couple will see you all the way through your pregnancy. They go with everything and choosing staple colours such as White, Black or Navy Blue will help you mix and match to create a variety of looks. They should be longer in length and stretchy to cover your bump and keep it stylish. Pair with jeans, skirts or trousers.
A Black Dress -Always timeless and classy - same applies when pregnant. There are many styles available but one that hugs the bump and shows off your curves always looks good. Its a personal choice, long sleeve, short sleeve etc and a lot will depend on climate also. There are also dresses that can see you past pregnancy that have breastfeeding access and are styled to give some coverage to post partum bodies. Whatever you go with you will get your wear out of it - they look great on maternity shoots, can be worn with flats for lunch with mates or heels for a dinner date.
Funky Accessories- Having a great piece of statement jewellery, a colourful scarf, new handbag etc can all add that extra oomph to any outfit and the best thing is you'll continue to use long after pregnancy.
Underwear - As your breasts change it is important they are supported with a good bra. Don't be afraid to ask to be measured to make sure you get the right size. Underwire is not a good idea as it can put pressure where it shouldn't. A good idea is to invest in bras that also has nursing access so you get more wear our of them. Buy neutral colours so you can wear with more things. Also try and buy ones you actually like and feel good in - it really does impact your confidenceand how you feel if you think what you're wearing is unsexy and almost 'granny' style.
A sleep bra is also perfect for sleep (really :-)) and lounging at home as they are comfy, give support however they are not restrictive like a normal bra.
Panties can be specialist maternity ones with built in support or you could just go up a size in your current style and wear under the bump.
A pair of maternity jeans - Personal choice whether you go under or over the bump but you will live in them ... literally (even afterwards).
A couple of tanks - these are excellent for layering and like the tees they should be longer in length and stretchy. Pair with a nice cardigan for cooler climes and to give you options where the weather changes quickly from hot to cold, or like Dubai going from outside to inside a mall.
Lastly - I know these are desired and always talked about during pregnancy .... leggings. I'm sorry I can't say these should be a part of anyone's wardrobe (pregnancy or otherwise) unless exercising or just chilling inside the house. Check out my post on Instagram to see my view on leggings :-) https://instagram.com/p/BfQHToihnXU/
These items should serve you well and its not an exhaustive list - you'll need other items too if working or for hols etc but these are you're absolute essentials. Enjoy dressing your bump!!