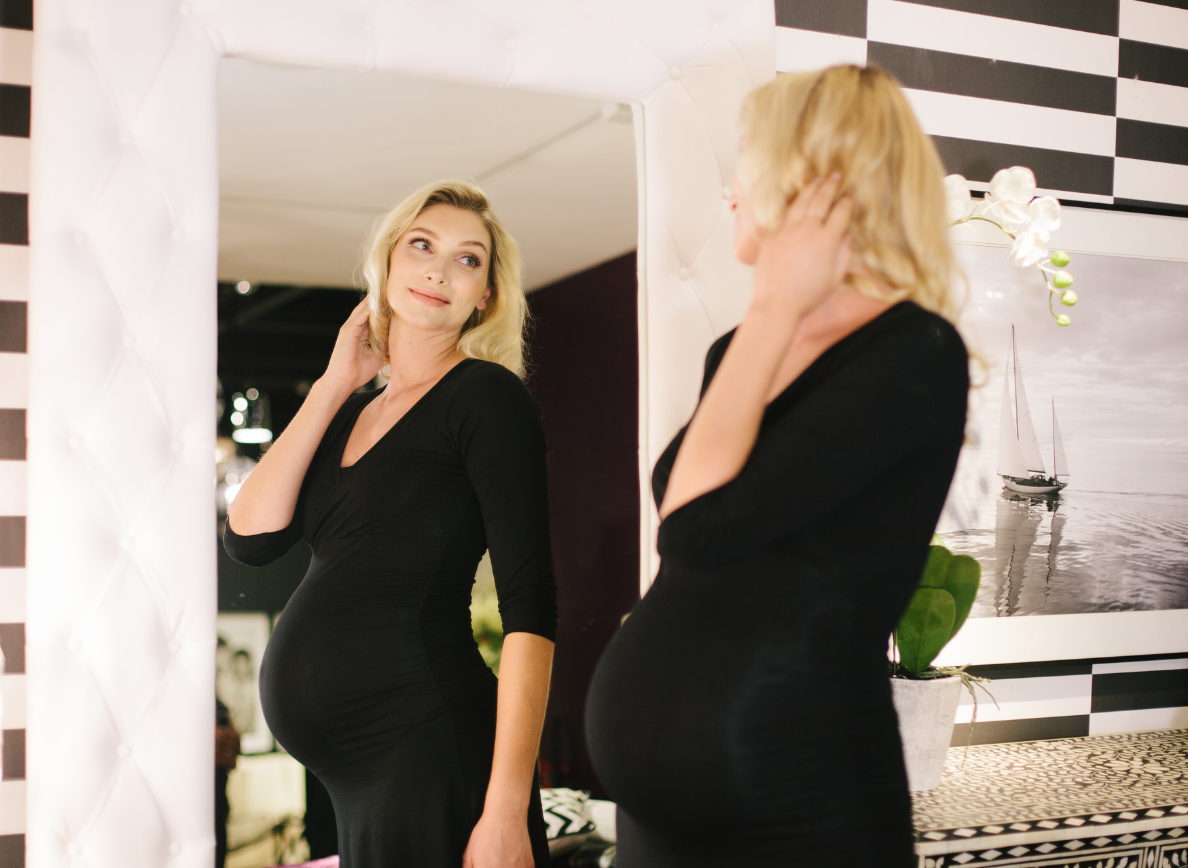 Pregnancy Fashion Trends 2021
by Tracy Preston
Fashion goes through major swings for what is on trend and what is no longer the look of the moment. The same goes for maternity fashion. Thankfully with a few key wardrobe staples there are so many ways you can style your beautiful baby bump; you can still feel stylish and not have to invest in an entirely new wardrobe.
For tips and ideas its always great to follow any celebs whose style you admire who are expecting a baby.
So, what will you need?
Maternity Dresses
You'll need a couple of maternity dresses that will cover you for both formal and casual occasions. There are so many maxi dresses out there now that can be dressed up or own just by changing your accessories. Black is always a chic option for doing this in most styles. The maxi is such a comfortable style also – perfect for the third trimester.
T shirt dresses have a relaxed vibe and look stylish teamed with a jacket or blazer and you may already have one in your wardrobe you can recycle for much of your pregnancy, especially if it's a stretchy fabrication.
For an office look to evening number a pencil dress will do just the job.
Maternity Jeans
Jeans are difficult enough to find when you're not pregnant however when you find the right pair for your pregnancy you will adore them. There are so many great 'jegging' styles now too, so you don't have to sacrifice style for comfort.
Under or over the bump style is purely down to personal preference but as with all jeans finding the right fit and design for your shape and height is key to them looking great. The cropped leg is extremely popular right now and looks great on a pregnant figure. Once you've found your pair you can go all out in the fashion stakes with the top you style them with, changing it up as you go.
Maternity Leggings
A pregnant lady's best friend! 'Frumpy' might have sprung to mind in times gone by when considering leggings, luckily that's no longer the case as there is so much choice these days. The key is quality – fabric needs to be stretchy and not too thin. There are the classic opaque cotton/spandex mix which can be paired with a lovely tie waist shirt or trendy tee. There are the leather look style and the shiny pvc if you prefer a more 'rock chic', 'cool mum' style.
Generally, over the bump work well with leggings as there is less risk of them sliding down and they give more coverage.
Leggings can be dressed up or down just by switching basic pumps or sneakers with heels.
Maternity Skirts
Flowy maxi skirts are not the only option although when teamed with a simple t-shirt or tank they can look great.
There are also pencil skirts and the mid length looks great to balance out your look during pregnancy. There are lots of materials and prints that look good, from leather to cotton, stripes to opaque. If you keep the top simple and classic you won't go wrong.
Pregnancy Swimwear
Not everyone has the option of getting to the pool in these times and swimming is generally considered a fantastic exercise for pregnancy. So if you are able to get a few lengths in take the opportunity to invest in a good one piece. It will not only give you that bit of support in the water, you'll feel stylish at the same time.
If you prefer a classic chic style opt for a one colour flattering cut swimsuit designed for pregnancy where there is more material around the tummy but still fitted around the rest of the body.
If you want to be more playful there are some cheeky designs out there in bright colours with funny slogans donning the bump.
Bikinis are also an option if you want to let your tummy breathe and are perfect if you get chance to go on a babymoon.
Maternity Tops
The top part of your outfit is where you can really get creative and get expressive. Opting for a few on trend statement styles and a variety of classic designs is where you can create variety in your wardrobe.
Classic t-shirts designed for a growing tummy should be comfortable and a bit longer than usual made from breathable fabrics such as cotton.
Tie waist shirts in linen or cotton with a bit of stretch can add flair to an outfit.
Off the shoulder designs focus attention on your top half and are very flattering.
There are simple yet stylish maternity top designs available now that have discreet nursing access so they will see you not only through pregnancy but afterwards also. When looking for these styles go for a looser fit as these will be more comfortable once your babe has arrived.
With these tips your pregnancy wardrobe should be on point and see you through each trimester in style and comfort.
Don't forget to check out your favorite pregnant celebrities for more ideas on ways you can accessorize outfits and change things up.
Current pregnant celebrities: Mandy Moore, Ashley Tisdale, Princess Eugenie, Rose Leslie, Meghan Trainor, Kelly Rowland and Hilary Duff to mention just a few.